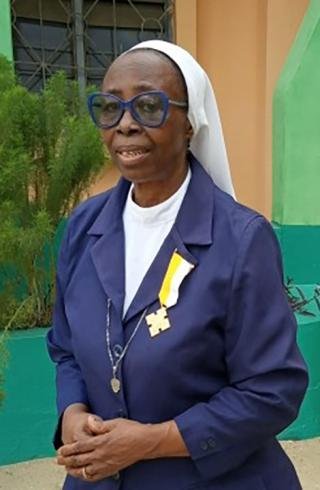 Management Team
Sr. Bernadette E. Okure, SHCJ
National Coordinator
Bernadette E. Okure is member of the Society of the Holy Child Jesus. She is vested with co-dreaming and nurturing new initiatives, formation of new groups, and facilitation of groups into concrete reality and empowering individuals and groups to build confidence in the self and in their environments.
She has a rich and diverse work and ministry experience spanning many years and across many countries, including teaching, social development and human transformation, social networking, strategic planning, and collaborative leadership. Most recently, she served as the Director, Center for Renewal (CFR) Jos, Nigeria, supervisor of participants' ongoing fieldwork/projects /thesis. Some of her other service engagements include Coordinator, Perpetually Professed Sisters of the Society of the Holy Child Jesus, African Province, Resource Person for training of trainers and projects, programme managers and field workers; Facilitation of Women and Men Religious General/ Province Chapters, Regional and Area Assemblies; and Serving on Projects feasibility Studies Committees. Previously, she served as Executive Director of Cardoso Catholic Community Foundation. In that capacity, she cofounded Primary, Secondary and Adult Education Schools and a Central Study Library for the youth seeking to upgrade their educational qualification. She initiated and completed the formal registration and accreditation process of five different Schools and Cardoso Medical facility. She is a recipient of several national and local awards.
She received her tertiary education at Pacific School of Religion, Graduate Theological Union, Berkeley, California; Holy Names University, Oakland, California; Franciscan School of Theology, at the Graduate Theological Union; Institute for Social Studies, The Hague, Netherlands; and University of Ghana, Legon. Furthermore, she received training in counseling and spiritual direction at St. Bueno's Jesuit Spirituality Centre, North Wales, United Kingdom; Teacher Training in Adult Education and social transformation at Holy Child College of Education, Takoradi Ghana; and training in Development Education and Leadership Services (DELES) with Specialization in Social Analysis. Besides her religious formation and training in spiritual direction, she has a doctorate degree in Christian Theology and Education, a Master of Art in Cosmology, a Master of Theological Studies, and a Graduate Diploma in Rural Policy and Planning.